The Crested Butte Arts Festival is founded on the principle of giving back to the Gunnison Valley community through outreach programming. Throughout the year, the organization gives monetary assistance to a variety of organizations, projects and individuals. Your participation in the Crested Butte Arts Festival helps us to further this work and inspire the arts in our community and beyond.
2019 Art Outreach Programming
Roll up your sleeves, paint with abandon and release your inner artist!
We invite families to participate in a variety of hands-on activities in the interactive and educational Art Alley Tent. Children learn to design and create paintings, mixed media collages, pen and ink drawings, works in clay, jewelry, and even fabric hats. Each year over 200 children participate in this family fun activity.
2019 Emerging Artist: Heather Bischoff
See Trees is an interactive installation of aspen trees with access to the multiverse. The immersive forest invites people of all ages to linger and explore with curiosity. Closer examination of the aspen eyes will allow people to discover the inside of the trees—a portal to another realm! Internal trunk space presents kaleidoscopic images, dioramas, and collaborative art to ponder the stories that live within our environment. What do these trees see?
Each year, proceeds from the Festival serve to perpetuate year-round sustainable arts outreach programs in the Gunnison Valley and at the upcoming year's festival. We invite you to become an active participant in your festival experience!
The Master of Gallery Management & Exhibits Specialization (MGES) program at Western Colorado University will be partnering with the Crested Butte Mountain Heritage Museum and the Crested Butte Art History Project to hold an exhibition on the Art History of the Gunnison Valley at the 2019 CBAF! Come check out the fascinating account of our community's rich history embedded in the arts!
Community Entertainment Stage
We were able to showcase our local talent on stage this year through our Art Outreach programming. This initiative showcases a broad spectrum of the performing arts and our commitment to fostering and eriching your creative experiemce at the festival. A huge thank you to our grantors who helped make this happen in 2019.
CBAF was proud to sponsor exceptional artist from Crested Butte Community School Emelie Elkins for her first artist exhibition during The Crested Butte Arts Walk on March 14, 2019.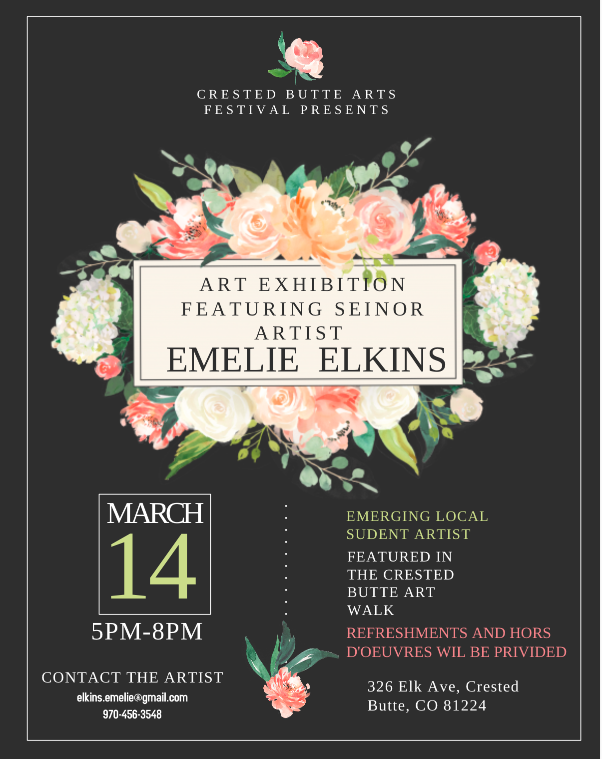 Exceptional Student Artist Showcase
The Art Auction tent brought to you by Inspired Home CB showcases the diversity and range of talent represented at the festival. By bidding on the items that were generously donated by our artists, patrons directly support CBAF and our Art Outreach programming. This year-round program was developed to enhance the artistic, educational and cultural offerings in the Gunnison Valley. Through Art Outreach, CBAF has contributed more than $50,000 to arts organizations, art education, and art projects in schools.